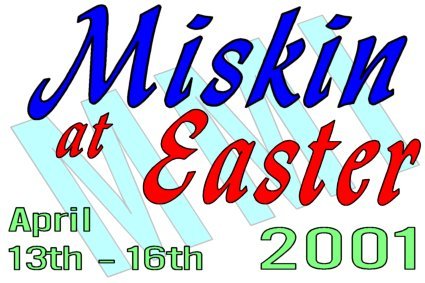 Cancelled due to risk of spreading Foot And Mouth Disease
I've left this page here to show what could have been.
Miskin - Nr. Llantrisant - South Wales
This will be another very special weekend. Last year we moved away from our usual last weekend in April to avoid the clash with May day. This resulted in a longer and more varied event. When it was all over it was generally agreed to keep to Easter and do it all again this year !!
Once again we will be having the special Easter Sunday Family Breakfast, a Pace Egging Ceremony and Traditional Egg Hunt, they should be well amused !
The Sunday Morning Parade of Dance teams and Children's bonnets will again be a high spot of the weekend. All the children seemed to win a prize last year, what will happen this year I wonder ?
There will of course be plenty of chance to see our ever popular Dance Displays as these will be taking place throughout the weekend, with Dance sides from Wales and beyond keen as ever to weave their particular brand of Miskin Magic.
The weekend kicks off on Friday lunchtime with a Welcome Session, a chance to renew friendships and get yourself in the mood for the Evening Mill Cottage Folk Club
Friday evening sees the welcome return of
Michaels Bones
who will be hosting a special evening in the
Scout Hall
Saturday's events include
Old Time Music Hall
With your Master of Ceremonies - Professor Roger Evans
Afternoon Celebrity Folk Concert
And in the Evening
Grand Easter Saturday Ceilidh
Special Midnight presentation of *Titanic* The story of the lost SOS
in story and song by Phil and Eirwen
As well as workshops and sessions and of course the Cottage Folk Club
The craft activities will be interspersed with story and song breaks
Easter Sunday itself should be really special starting with a
Traditional Easter Family Breakfast
Followed by the
Grand Procession
All dance sides welcome, in costume please, and any children in fancy dress may even get a special prize.
Then Back to Miskin Village for
~ Pace-Egging Ceremony ~
~ Dance Displays ~ Pub Sessions ~ Concerts ~
~ Egg Hunt ~ Easter Bonnet Party etc. ~
On Monday the venue changes to the Windsor Hotel in Pontyclun. The weekend will continue with a Concert, Evening Folk Club and of course Sessions in the lounge during the afternoon.
Good food and a selection of guest beers will be available.
There will be an extensive programme of workshops, both for instrument and voice, throughout this busy weekend. A chance to join in with the music in the sessions have a sing in the bar or a quieter song or story for that contemplative moment.
Storytelling will again play its important part in the weekend . We have our regular storytellers in Shonaleigh and Eirwen: thereby hangs a tale or two , I'll be bound ! Be prepared to stay up late Saturday evening for the Titanic Special.
Guests so far invited include -
Dragonfall ~ Capella ~ Jeff Hankins ~ Trefor and Vicki Williams ~ Siwsann George and Roger Plater ~ Carrie Jones ~ Pete & John ~ Shonaleigh ~ Eirwen Malin ~
Dance Sides from Wales and beyond have again been invited for what has become a premier Dance weekend
We will have exclusive use of the whole of the Miskin Mill Scout Village. The Mill Kitchen will be in full swing courtesy of John Loughlin with BFUS Catering. He will be providing for all meals from Breakfast through to supper. An extensive menu will be available with meals to suit all tastes, all at reasonable prices.
In the same building will be "Nellie Dean's Bar", providing the usual range of drinks. The main room of the Mill ( right next to the bar ) with its log fire and carved oak beams, will be the perfect setting for music sessions, in time honoured Miskin Style.
The Cottage will be the venue for the evening Folk Clubs and quieter sing around sessions, stories, workshops etc. If you have been to the mill before you will remember the superb acoustics, a real joy to sing there.
The Children's festival events will keep them occupied safe in the upstairs room of the Mill .