'Im an 'Er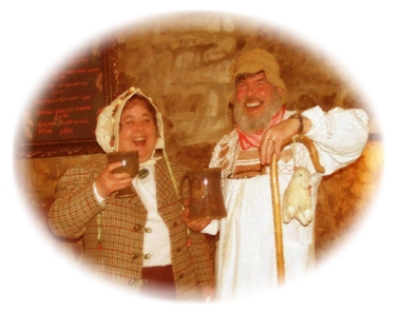 "Im an 'Er" have risen from the ashes of Ale an Earty, who, for many years were known on the Folk and Pub scene for their repertoire of Fun, Folk and Bawd.
Im, known for his powerful voice, performs a wide range of material with choruses and audience participation.
Er is not so easily categorized, as she has an assortment of Old Tyme Music Hall, and a voice that defies any description. Put the two together, along with their striking costumes, you have the prime ingredients for a performance like you have never seen or heard before. Im an Er are a visual act, they rely totally on their voices and idiocy. The act is certainly not for the easily offended, although their extensive range of material allows them to adjust the program to suit almost all needs.
Barrie and Gill, to use their "ticking off names", have established a very special niche in the Folk World. Responsible for the increasingly popular "Cotswold Capers" festival and various Wassailing and other good time weekends these are a very well loved couple. No CD as yet but I seed 'e and I liked 'e an 'er.