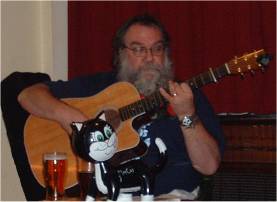 Banbury mudgather
Born and brought up in Tyneside, George is a true Geordie and lists amongst his main influences such as,Richard Thompson, Shep Woolley, Mary Black, and Eric Clapton. This is reflected in his repertoire which ranges 'from contemporary Child Ballads to traditional Elton John' and now includes a major contribution from his friend and associate Ron Trueman-Border.
George now lives in Portsmouth and is a regular at the Fareham & Gosport Easter Festival.
You would not believe how much I had to plead with Mr. Chegwyn to let one of his major attractions have a year off to come to Miskin. Welcome George, enjoy.

For a list of recordings longer than both my arms pop over to George's website