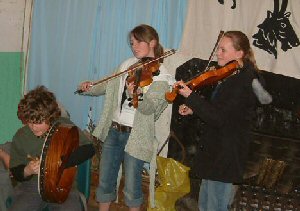 Tom, Rosanna and Louise
Winners of the the Harry Prigg Absent Friends Award in 2005 and the winners of our hearts for several years before that.
I've been lucky enough to get to know Tom and Rosanna during several years at Sidmouth. A couple of years ago they turned up at Miskin with their friend Louise and took us by storm. They have unbounded enthusiasm for life, it shows in the way they are just about everywhere if something is happening or if we need a helping hand.
But then just listen and watch them play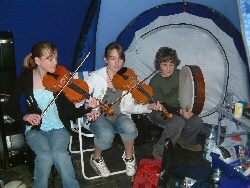 If you ever have any doubts about the future of our music just enjoy these youngsters.
( I wonder if they will let Dad, Chris King, join in with them this year?)
Here's a recording of Rosanna and a very proud Chris