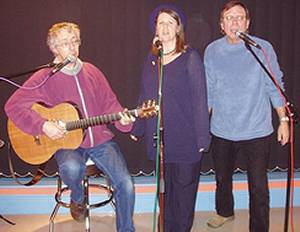 I saw them at Llantrisant Folk Club and couldn't resist them.
So here they are, sit back listen enjoy.
First just a few unasked questions answered.
Why are they called Shot Dogs?
Because we started out at 'Spin Drift' and it sounded too much like a namby pamby 1970's folk group. Would we be more likely to get a gig as Spin Drift or as Shot Dogs? Well you tell me.

What sort of material do you perform?
Various; traditional pieces from the 16th to contemporary 21st century. From Willy Shakespeare to James Taylor.

Who writes your material?
A combination of John and Arthur. Arthur churns 'em out and John licks them into shape. I sing some trad folk but not with my finger in my ear, and my eyes are wide open.

Do you have a CD?
We're in the process of recording all our songs at a beautiful house on the banks of Llangorse Lake. Some songs I believe, are to be recorded on the stairs! It'll be the bathroom next. Acoustics,you know!

How long have you been together?
Four very hard working years.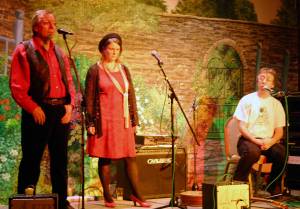 Final comment from Sally
If you want any more you can sing it yourself.

xxx Sally and the boys.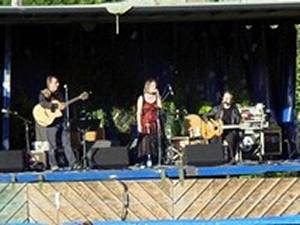 And heres the Band supporting The Levellers
Makes perfect sense to me. watch out for them