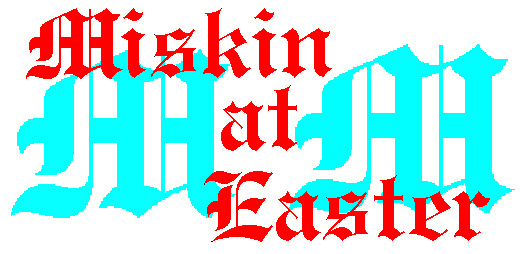 21st - 24th April 2000
Miskin - Nr. Llantrisant - South Wales

What can I say but well done everyone! That really was a weekend to remember, Thanks to all who helped and all who joined in, to create another Magic Miskin.

Everything seemed to happen much like the plan so until I write a better report just put this page in the past tense double the fun and imagine what you missed !!!
---
This will be a very special weekend. We have moved away from our usual last weekend in April to avoid the clash with May day. This has resulted in a longer and more varied event, with, we hope, enough for all the family. Children are being well looked after, with experienced group leaders running Egg Painting and Easter Decoration making Workshops as well as other activities. There will also be a Junior-Folk Concert and their own Ceilidh. With the special Easter Sunday Family Breakfast, a Pace Egging Ceremony and Traditional Egg Hunt, they should be well amused !
Another high spot of the weekend will be the Grand Church Parade and Special Easter Service.
There will of course be plenty of chance to see our ever popular Dance Displays as these will be taking place throughout the weekend, with Dance sides from Wales and beyond keen as ever to weave their particular brand of Miskin Magic.
The weekend kicks off on Friday lunchtime with a Welcome Session, a chance to renew friendships and make sure all those songs and tunes have carried on into the new Millenium. Get yourself in the mood for the Evening Mill Cottage Folk Club
Saturday's events include
Old Time Music Hall
with Steve Jordan and Ron Harries with guests introduced by a surprise Master of Ceremonies.
Grand Easter Saturday Ceilidh
with
Cat's Claw Band
As well as workshops and sessions and of course the Cottage Folk Club
Children's festival activities all day ( Click here! )
The craft activities will be interspersed with story and song breaks and Saturday will wind to a close with a special Ceilidh just for them.
Easter Sunday itself should be really special starting with a
Traditional Easter Family Breakfast
Followed by the
Grand Procession to the Church
All dance sides welcome, in costume please, and any children in fancy dress may even get a special prize. And what better chance for the first public airing of your special Easter Bonnet which is bound to win a prize in the Easter Bonnet Party later in the day.
for achance to join the congregation for
an informal get together a few dances and songs
Then
~ Pace-Egging Ceremony ~
Then Back to Miskin Village for
~ Dance Displays ~ Pub Sessions ~ Concerts ~
~ Egg Hunt ~ Easter Bonnet Party etc. ~
On Monday the venue changes to the Windsor Hotel in Pontyclun. The weekend will continue with a Concert, Evening Folk Club and of course Sessions in the lounge during the afternoon.
In the evening Fast Parts will be playing in the Bar
Good food and a selection of guest beers will be available.
There will be an extensive programme of workshops, both for instrument and voice, throughout this busy weekend. A chance to join in with the music in the sessions have a sing in the bar or a quieter song or story for that contemplative moment.
Storytelling will again play its important part in the weekend . We have four well renowned storytellers in Mike, Kathy, Shonaleigh and Eirwen: thereby hangs a tale or two , I'll be bound !
Guests so far booked include -
Ian Woods ~Mike O'Connor ~ Sarah Morgan ~Steve Jordan ~ John Heslop ~ Kathy Wallis ~ Shonaleigh ~ Eirwen Malin ~ Roy Zeal ~ Phil Millichip ~ Siwsann George ~
Dance Sides from Wales and beyond have again been invited for what has become a premier Dance weekend
This year we will have exclusive use of the whole of the Miskin Mill Scout Village. The Mill Kitchen will be in full swing courtesy of John Loughlin with BFUS Catering. He will be providing for all meals from Breakfast through to supper. An extensive menu will be available with meals to suit all tastes, all at reasonable prices.
In the same building will be "Nellie Dean's Bar", providing the usual range of drinks. The Miskin Arms will be shut over the Easter Period for extensive refurbishment, so we will be providing a real pub atmosphere all on our own site. The main room of the Mill ( right next to the bar ) with its log fire and carved oak beams, will be the perfect setting for music sessions, in time honoured Miskin Style.
The Cottage will be the venue for the evening Folk Clubs and quieter sing around sessions, stories, workshops etc. If you have been to the mill before you will remember the superb acoustics, a real joy to sing there.
The Children's festival events will keep them occupied safe in the upstairs room of the Mill .
We are hoping this weekend will raise funds to help improve the surroundings for both patients and staff at the East Glamorgan Psychiatric Hospital