Miskin at Easter 2003
Re-printed from
Folk on Tap ( the magazine of the Southern Counties Folk Federation) with kind permission
(The pictures were added by me. Don't buy FOT and wonder where they are!!!)
The A34 was as clear as a bell, even past Newbury. And this was Good Friday, not too early in the morning (well, I was travelling with Rod Livingstone – not known for his early rising on a non-work day). The M4 was moving, mostly in the right direction, except for a sad accident on the London bound carriageway for which it seemed that all of the ghouls in the world had to slow right down to observe. The new bridge across the Severn was quite busy so we took the Old Bridge, to the North, mainly because we wanted to have a cuppa in the Severn View Services. Of course, now that they have re-built the place and 'improved' it the Severn is absolutely nowhere in sight (unless you book a room in the sparkling new Travelodge). Onward we went, into Wales, with our passports at the ready. The passport control seems to have been reduced to a simple catchment area for money. A few coins of the realm to the excise man in his tiny little shed and we were through. Amazingly we found that the M4 continues over the border and into Wales itself. Just turn right above Cardiff and head off into the Bundu of the Rhonda Valley and a mile before you reach Llantrisant you will see Miskin on your left. (Well, it made sense at the time, and it worked).
So, a little after lunchtime we arrived at the site for the Miskin Festival.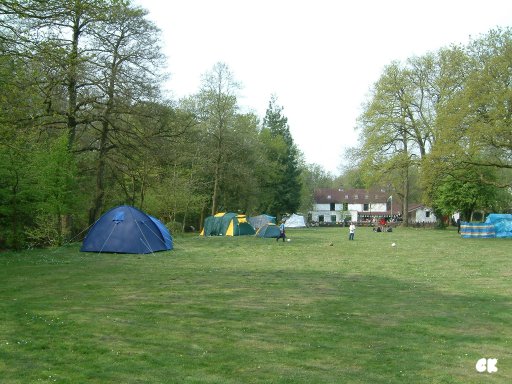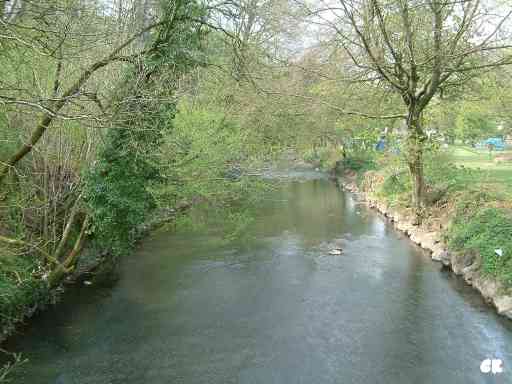 Nellie Dean's Pub/Lounge was in full swing already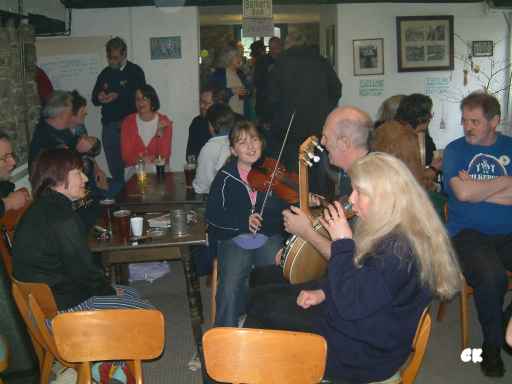 and Jan's Van was set-up for the entertainment of all of the children. (I thought it was fabulous as well).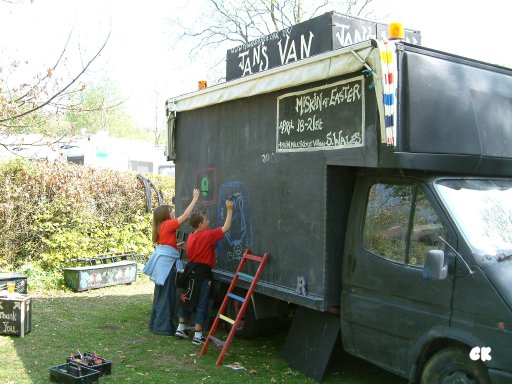 Miskin is stated to be a small Festival and I would say that throughout the whole weekend there were possibly 300 people involved. The Miskin Mill Scout Village provides the actual Festival site, totally self-contained, no need to drive anywhere (thankfully) and incorporating all of the facilities for music, drinking, eating, sleeping, drinking, singing, drinking, eating, singing and the occasional drink of orange juice (of course).
Andy Jackson and his partner Jillie are amazing hosts. They are omnipresent and engender a veritable multitude of volunteer helpers. Miskin is a family festival. The programme must be a nightmare to organise, but Andy manages to keep it all running very close to the time schedule in the programme. That is of course an incredible achievement in itself.
Friday evening was a Folk Club in Nellie Dean's Pub/Lounge, the MC of which was Russell Jones.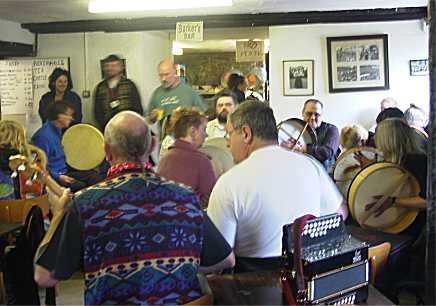 In addition to that was a quieter folk club in the main Hall, called The Cottage. I visited both. The acoustics in The Cottage are astounding. Andy told me that the very first people to sing in the Cottage, at the very first festival, were The Portsmouth Shantymen, apparently they hit their opening chord and stopped in shock at the sound coming back at them. With their voices and strength I can well imagine what a shock it was for them. It must be made clear that this only happened during their rehearsal session. But it has now passed into Miskin Folklore. The formal part of that Friday venue ended with a session of Stories to scare you to Bed.
Back to Nellie Dean's, which by now was bursting at its seams.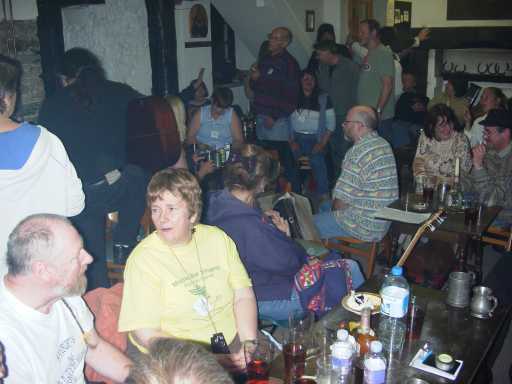 There are no acoustic qualities worthy of note in Nellie Dean's other than the spine tingling feeling when a hundred Welsh voices sing their Union Miner's song. As a lone voice one has to fight hard against the bustling atmosphere of so many people packed into such a small place, and by seven in the morning it is difficult even to talk.
At seven thirty the army of volunteers arrive to bring the Kitchen to life.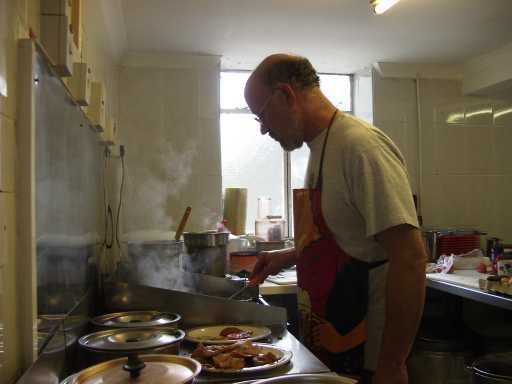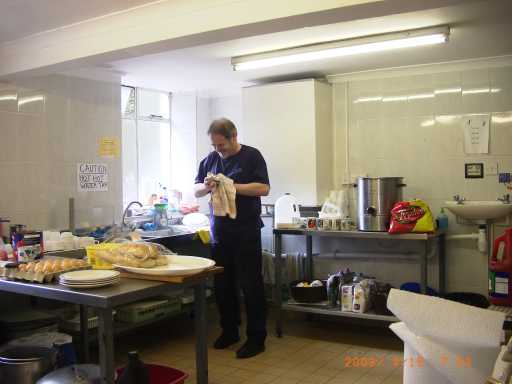 "Where are the tomatoes, no not those ones, the tinned plum ones?" Breakfast is served, this year at an incredible price of only £2.50. Whether it is a full Welsh Breakfast or an English one matters not, it is welcome, wholesome and full of cholesterol I am sure.
The only mishap during the night was that the wind rose, around seven a.m. to an unacceptable level and demolished Andy's newly purchased Gazebo. The cry went out, "All Hands to the Pumps to dismantle it further so that it doesn't completely wreck itself." Hours of work from the previous day had just been wiped-out. We all cried, especially Andy, but in his stalwart fashion the re-construction started again almost immediately.
Saturday's festivities started with a children's festival in the Scout Hall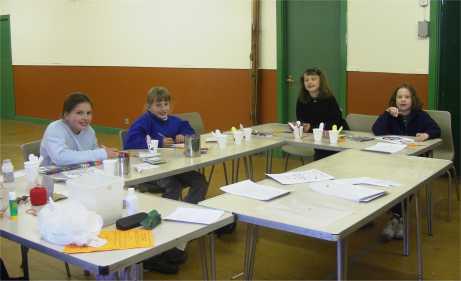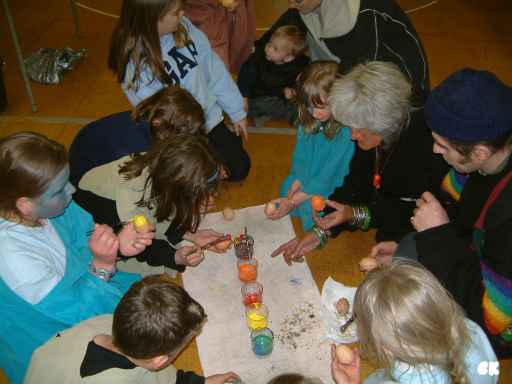 and at Jan's Van on the Mill Field.
For those of you who have not seen Jan's Van I would suggest that you visit her web-site www.jansvan.co.ukI have never seen so many, fully occupied, and happy children in one place.
1030 there was a song-writing workshop run by Ann Mathews, John Heslop and Jeff Hankins. (John made a point of saying that one should not be precious with the words to ones own songs – let them live – let them take on a life of their own – I asked John for the words to his wonderful parody of the Pace Egging song – John, my e-mail is oldfatherted@aol.com I shall really look forward to helping your song to live). They fought bravely with their quiet, studious but friendly workshop against the Bohdran workshop going on beneath them in Nellie Deans Lounge. Russell Jones who was assisted by Lee Raymond ran this workshop.

At 1100 Nellie Dean's Bar opened again and the Bohdran workshop continued.
Because the weather had turned a little sour, the Corn Dolly demonstration by Marc & Maz Postins had moved indoors and taken over a corner of the Lounge.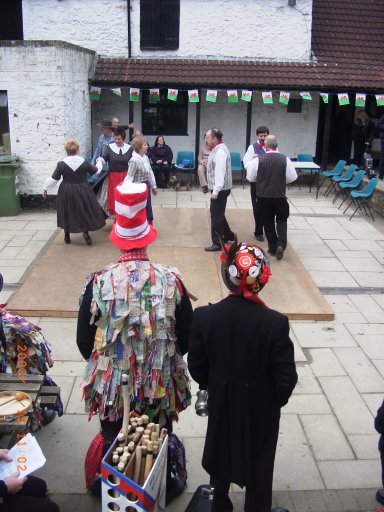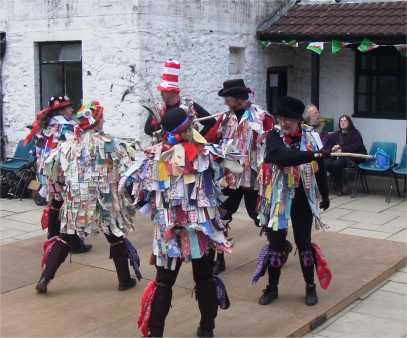 1200 the dance displays started in the almost inclement weather, though it was not raining at that stage. The gazebo cover having been demolished, this was great news for the dancers. Andy has asked that I should include here an enormous vote of thanks to the Wickam Morris who have supported his festival so admirably. A VOTE OF THANKS IS HEREBY OFFERED.
Whilst all of this was going on Jan's Van was still in constant use by the children, the Song Loft had ceased to be a songwriting workshop and had tuned into a singaround hosted by Mike Gibson and Chris Wenham. Nellie Deans had become a music session and most of the campers had arrived from the campsite to join in the festivities. I had gone to look for a cash machine, and found one outside Tesco in Llantrisant. (Such mundane matters are important you know).
The Cottage became an Old Time Music Hall at 1300 under the Master of Ceremonies, Professor Roger Evans. The Professor introduced John Downing-Gaines,The Three Sheets to the Wind, Hawke, Naughty Russell Jones, Inclognito, Alhambra and in the best of taste of course, Chiefly the Audience for the finale. The costumes were outstanding and the humour of a similar quality.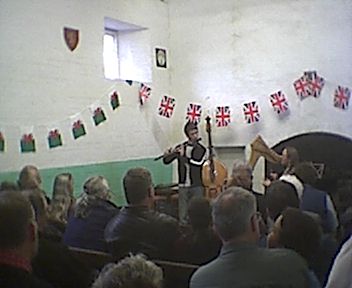 Harriet Earis & Colman Connolly
At 1415, almost to the minute, the Cottage became the stage for an incredible concert of talent. Ann Mathews had the unenviable task of starting the afternoon, which she did with her usual aplomb and skill, performing several of her own songs (all of which appear on her current CD). Ann was followed by Roy Zeal; Siwsann George (whom I have not seen for ages and was over the moon to hear her wonderful voice again). Mike Gibson and Chris Wenham gave a masterly performance, as you would expect followed by John Heslop (unfortunately Kathy was not with him this weekend having done some damage to her back – hope you are better now Kathy). Rod Livingstone performed excellently and presented several of his own songs (avoiding Leonard Cohen for once). The first part of the concert was brought to a wonderful conclusion by Gilly Hewitt singing her Burns songs to the original tunes and accompanied by her Banjo. (Yes, a banjo. A beautiful Banjo, but yes, a Banjo. I would never have thought it possible, but it works perfectly in her hands and voice.) The other stars of the show, for me, were Trefor and Vicki Williams, and the amazing music of Huw Chidgey & Catherine Handley .
On into the evening; Nellie Deans was still going, The Rarebits Ceilidh Band had taken over the Scout Hall and John Heslop was running a Folk Club in the Cottage. A singaround was underway in the Song Loft and the Music Session had taken over Nellie Deans Bar. I did take my guitar to the folk club, but was not invited to sing (perhaps there is a message there for me), but I did enjoy some amazing music and voices.
By midnight the Music session in Nellie Deans had become a general singaround and it went on until sunrise, which, as even I had noticed by now, seemed to be quite the norm.
AND SO TO BED (I think?)
On Sunday, I have to admit that I didn't arise until 0945, when Claire one of the most ferocious of the Marshals, stood in the middle of our billet and announced that they were waiting to close the Cookhouse and finish making breakfasts. Heaven knows what I had missed in the intervening time. Certainly I had missed the Special Children's Easter Breakfast (but then I wouldn't have qualified anyway I suppose).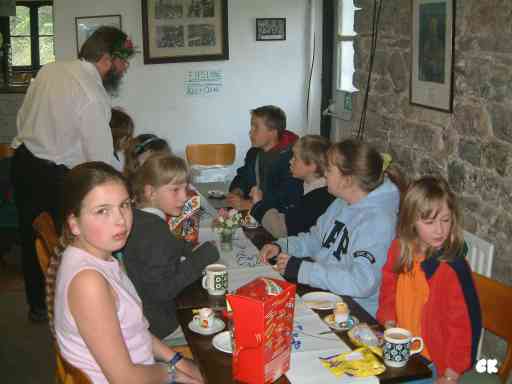 After a rapid trip to the shower block, I did manage to obtain another tremendous breakfast and felt well set-up for the day ahead. I suddenly realised that I did not have an Easter Bonnet and therefore resigned myself to the fact that I would not be able to partake of the Procession. I thought of purloining one from the Morris, but they seemed to be using them at the time, so I thought better of that idea.
The Dance Displays went on most of the morning involving the village and the Mill Courtyard (still bereft of its Gazebo cover) but, thankfully, it was not pouring down with rain. The Grand Easter Procession started at 1100.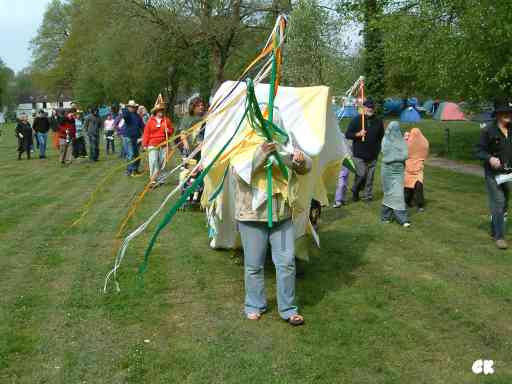 The dancers were in costume; people had their creations of bonnets firmly attached. Having assembled in the courtyard outside the Mill, they processed to somewhere, had a jolly time and then came back. The children's section of the parade was led by Jan and all of the children had some form of special costume that she and they had created. Sitting on a camping chair outside of Colin and Rosie's tent, with a life-giving cuppa, I had a wonderful view of the whole procession.
By 1200 the music session had started again in Nellie Deans and the singaround was due to get underway in the Song Loft.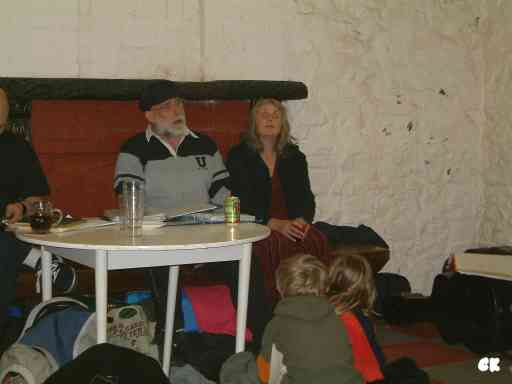 The quandary I then found myself within was that the Pace Egging Ceremony was also due to commence on the main Miskin Mill Field. No contest.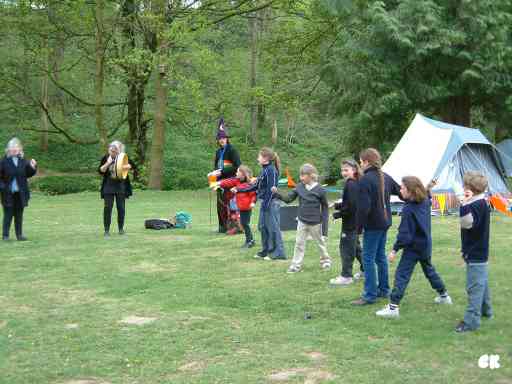 The afternoon Concert was, once again, held in the Cottage and involved such luminaries as Calenning; Geoff & Linda Sherriff; Rob Mills; The Spindwyers (with Sheila Thackwray and her great vice on Vocals and piano); Ali Byrne & Steve Robinson; Rough Cut; Catchusoba; Resonator and of course, The Hot Tamales.
The Ceilidh to End Them All started in the Scout Hall at 2000 under the direction of callers and feature guests Patti Smith and Ned Clamp. Russell Jones ran an evening Folk Club in the Cottage and, you've guessed it, Nellie Deans was on the go again – another seven a.m. finish.
Monday morning was really sad. At seven thirty I helped to drag a trolley loaded with "empty" beer barrels up the hill to the main gate for later disposal and collection. Such a sad sight, I am sure that someone will write a song about it one day. There was no amazing breakfast, as the kitchen was being dismantled as well.
In conclusion, mainly because I am running out of allocated space, otherwise I could go on for much longer about the talent and quality music that was presented, I must say that I have never been to such a friendly and entertaining festival. It is sad to think that Andy Jackson is in danger of being a victim of his own success. By this I mean that if more of us get to know about Miskin it will be in danger of losing the close friendly atmosphere that is the very essence of the festival. Not wishing to be selfish (much) I hope that Andy will turn it into a ticket only affair to control the numbers, so that it can stay in its own little time warp of family fun and friendship and a true celebration of music.
THANK YOU ANDY, AND YOUR GOOD LADY, FOR A GREAT FESTIVAL.