Corn Dollies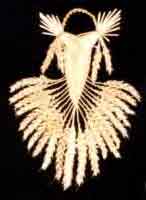 Marc & Maz Postins
I met these two wonderful people by sheer chance at the Sidmouth festival last year. Our mutual enthusiasm for our own corners of the folk world sparked an agreement that I feel sure will bear fruit for many Easters to come.
Marc and Maz are experienced teachers of this ancient art and have attended festivals far and wide also working a lot for the National Trust. We are lucky indeed to have them with us for the first time this year, please extend them our usual Miskin welcome.
A corn dolly is created by plaiting the wheat stalks to create a straw figure. The corn dolly is kept until the Spring, because people believed that the corn spirit lived in the wheat and as the wheat was harvested, the spirit fled to the wheat which remained. By creating the corn dolly the spirit is kept alive for the next year and the new crop.