Events

This is a quick look at the main events during the weekend. This will of course be modified and added to as time goes on. A full programme will be available nearer the time.

Concerts | Ceilidhs | Storytelling | Old Time Music Hall
Easter Sunday Morning Procession | Easter Games
Folk Clubs | Singarounds | Sessions | Workshops

As last year there will be the Saturday and Sunday afternoon concerts. Also there will be a Saturday evening Concert Club,to allow time for the ever increasing guest list and allow a few of our regulars to escape from the bar and give us an extended set.

The main easter ceilidh will be Saturday evening as usual, with a welcome return from the Rarebits Ceilidh Band. This keen bunch from Chepstow bring plenty of dancing interspersed with a few songs to give you a breather.

Our Sunday evening ceilidhs, with whatever musicians we can gather together to form a scratch band, are becoming equally popular. All musicians are welcome to join the band and you have at least two days to practice! Yu won't know if you can play in a band until you try, strange things happen at Miskin.

From its small beginings in the old stable behind the Miskin Arms, stories have become an important part of Miskin events. Having our own resident award winning storyteller in Eirwen Malin helps of course. And a stalwart of every Miskin,. Kathy Wallis is another award winner and well known in story telling circles. Last Easter we started what we hope will be a regular feature, the Story Walk.. Carrying a cauldron of mulled spiced cider a gentle amble through the grounds of the Mill stopping occasionally for a story and to refill the glasses - a fine way to spend an hour or so.

Saturday afternoon

Another favorite is our attempt to relive the good old days, at least what we have been told anyway. In the capable hands of Professor Rodger Evans we will recreate the magic of times gone by.

Easter Bonnets and dancers in costume - musicians and general jolly people, process from the start to the finish via the middle. In the past we have walked from Miskin to the Church, last Easter we stayed on the Mill Site, who knows what we may do next time?

After the procession decorated eggs will fly ! The ancient custom of Pace egging is now well and truly established in the wilds of rural Miskin. Seperate children's and adult's heats will be held, so if you missed something in your childhood now is your chance to catch up.
If any eggs survive, a good old Egg and Spoon Race should see them off.

These are intended to be slightly more formal than bar sessions., with a chance to sing or play those quieter numbers. Usually held in the Cottage with an acoustic like a small church, it really is a joy to sing there.

The classic singaround is always popular, it gives everyone a chance without having to volunteer or add your name to any list, just turn up and you'll get a turn.Driven by a festival guest these are informal but quiet sessions where people want to hear the songs.

In contrast to the folk Club or Singaround the modern Pub type Session has become a bit of a free for all. We have tried to tame this slightly at Miskin and while the emphasis is definately on music and fun there will still be the moment for a respectful hush to hear the occasional quieter number. These run in Nellie Dean's Lounge so we can never expect complete silence !

Depending on the weather there will be plenty of space outside and in the outbuildings on the campsite for small impromptue sessions - feel free, but don't keep it a secret!

Music and Song workshops will be organizes to suit guests particular speciality. More details nearer the time.

Russel Jones ever ready to gently tease his Bohdran, will be holding a workshop for those without hangovers!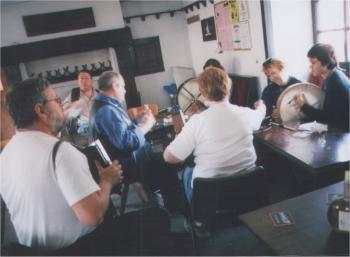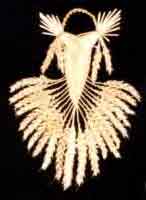 I am pleased to welcome Marianne and Marc Postins, Corn Dolly makers from Cornwall. They will be showing their craft during the weekend with very much an Easter theme.
Another new find for Miskin, Jillie Hambley and daughter Anna will be holding sessions in Lacemaking. All materials will be provided and with a litttle concentration you should be able to complete a real lace bookmark to boast about to your friends!

More about Lace workshop here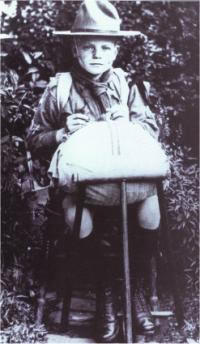 And just to show the connection with the Mill, here's a Scout busy at his lace pillow. (Or is he a closet Hammer Dulcimer player)
The Bonnet making and Easter Tree Workshop seems a good way to spend Sunday morning after breakfast.