Bill McKinnon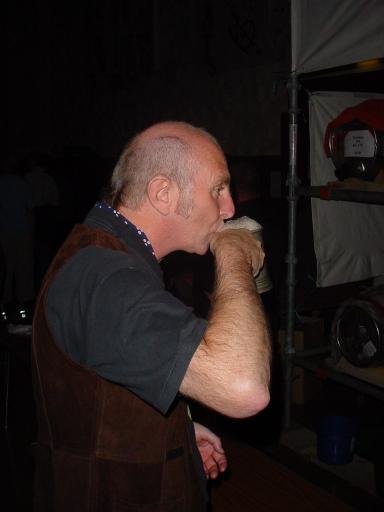 Bill in one of his best known poses !!
What can we say about Bill that has not already been said by Didcot magistrates.
"Bill has pinched and murdered more songs and tunes than would fit on any charge sheet. When a policeman turned up at Bill's door carrying a bodhran as evidence,Bill told him kindly to beat it.We did offer him twenty quid to play his banjo but luckily the M.U. had offered him fifty not to."

Many of you will already know Bill of course, he was here last year and as I remember stayed to the bitter end, or was ir the end of the bitter? You may also have had dealings with him at the Oxford Branch of The Music Room. Here's what they have to say about him:
The Oxford Music Room
"Bill has brought to the Music Room nearly 30 years experience and enjoyment of traditional music, playing semi-pro for many years before "taking the plunge" professionally some years ago.
One of the many bands Bill has worked with, "Life Of Reilly", of which he was the front man, was a highlight, with television appearances and live radio broadcasts. Bill has also performed solo on BBC local radio.
Currently playing with ceilidh band "McKinnon's Malt" among others, Bill still finds time to visit local folk clubs and run a "session" in his spare time. Bill plays 5 string banjo, tenor banjo, guitar and mandolin. He is also a narrowboat and real ale enthusiast. "

Here's a shot of Bill, holding his beloved Banjo, outside The Oxford Music Room with another member of the team( and another fine performer as it 'appens) John Spiers.( Yes I will try and get him here one year)
I'm pleased to have Bill on board for Miskin again. Bill is always ready to get a session going and is usually the last to leave.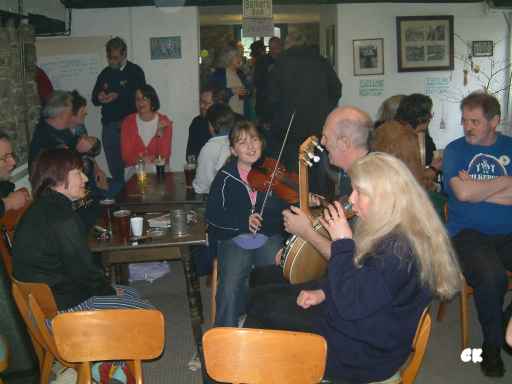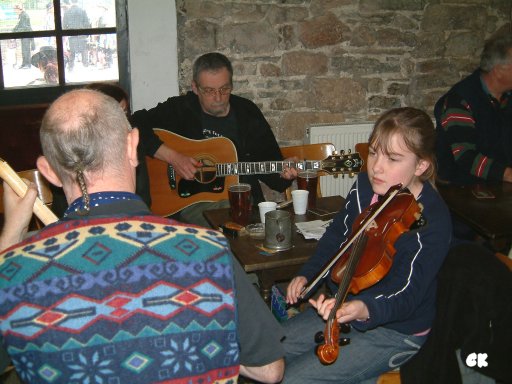 He will be hosting a melodeon workshop during the weekend so now's the chance to brush up on those skills or perhaps to take the plunge with your new instrument. I speak from experience when I say that Bill is a very patient teacher.
In his other guise Bill is an integral part of The Tarrantella Ceilidh Band, he will not be getting much rest this weekend.