Chord
Harriet Earis & Colman Connolly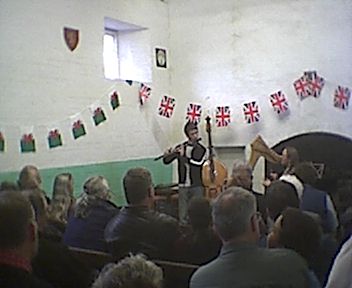 Seen here in concert at last Years Miskin at Easter, Harriet and Colman just dropped in "because they heard it was good" They finished up being awarded the Harry Prigg Absent Friends Trophy for spine tingling performances throughout the weekend.
Harriet on Harp is complemented by Colman on Flute and Irish pipes. I wrote this review after a night at the Llantrisant Folk Club :

"To watch them play is a joy. Colman's wonderful, warm, Irish smile is complemented by Harriet's infectious grin and their obvious delight in their music. She sits like some ethereal fairy coaxing out every nuance of the harp's inherently beautiful sound; her fingers fly like a will o' the wisp and her whole body moves, dancing in sheer celebration of their music."
Andy

---
its a short snippet from Harriets CD " Jumping Ahead"
Click here for more info ! and more music including Colman on uilleann pipes, flute and whistles