Lace Making
with Jillie, Anna and Helen
I am especially pleased to welcome our Lace team back to Miskin. They weren't at all sure at first but were rewarded by a great and attentive response to the workshops. Indeed they were seen enjoying the rest of the festival as well, and are keen to come back again
Lace is one of the lost crafts overtaken by mechanical devices and the machines of the industrial revolution. Now relegated to a relaxing and therapeutic pastime, it has lost none of its beauty and charm. There is an active following for lacemaking in all its traditions - Honiton - Bedfordshire and the style being demonstrated this weekend - Torchon ( being french for "dishcloth" referring only to the strength of the finished article ! )
Jillie, ably assisted by daughter Anna, and their friend Helen will be guiding workshop participants through the basics of lacemaking. The aim is to produce a lace bookmark like the one illustrated here. Nearly all those taking part last year went home with a finished work.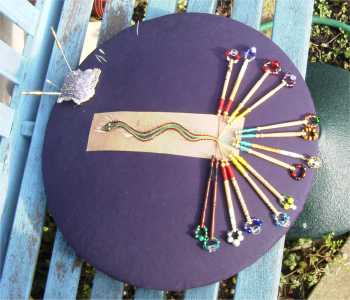 Please note that due to the complex nature of the work we will have to limit the actual participants in the Saturday morning workshop to the first ten. All materials and equipment will be provided at no extra charge to ticket holders. If you already have your own equipment please feel free to bring it along.
There will be plenty of chances to meet Jillie, Anna and Helen to discuss lace during the weekend. They might even like a dance!!
---
For last years participants and for those already more experienced we are workig on a pattern with just a bit more complexity.
(But not as difficult as Anna work shown here )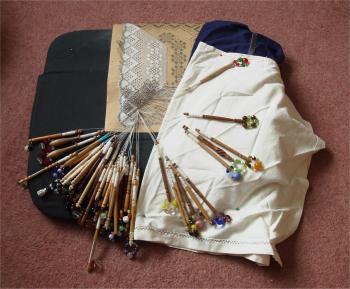 An earlier piece of Anna's lacework in progress.
Note that there are as many more bobbins hidden under the cloth.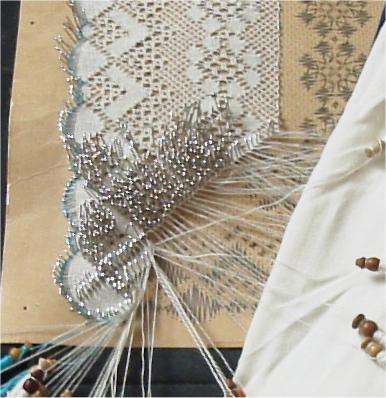 And here in more detail.
And to show a connection between scouting and lace how about this old photo