Sue Stevens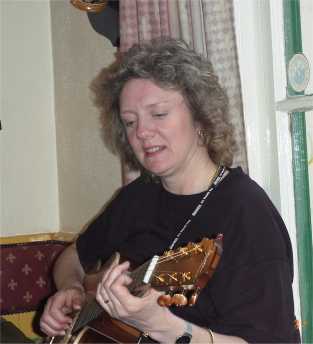 Sue comes from the West Midlands and has been involved in the Folk Scene since the early70's. after the usual break to have and bring up a family, she bounced back in Millenium year and opened the Light House Folk Club in Halesowen. The club where they are so friendly they've even written a song about it !!
Sue's material embraces "footstomping contemporary" sensitive folk song and self written material.
I was taken by her the moment I heard her sing and silence the busy lounge bar in the Muggery during Upton on Severn Festival. (Where I took the picture)
Have a listen here to a few moments from "Stardust" the title track of what I hope is not just a demo CD. Enchanting!
For more background and contact details see Sue's site