Chris Green & Jude Reed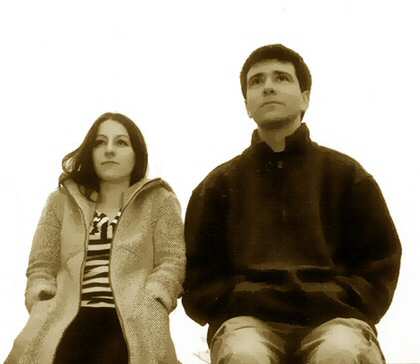 Jude - Oboe, Whistle, Vocals ~~~~ Chris - Vocals, Guitar, Bouzouki
Just a taster of Isambarde for us this weekend - Fiddler and singer Emily can't be with us unfortunately. (Make a note in your diary for next year Emily)
I saw the trio at Banbury Festival and was very impressed . Enthusiasm talent and a different sound . Look out for some interesting combinations during the weekend.
Chris started playing music (well, the banjo, anyway) at the age of eight, and is self-taught. His previous experience ranges from midland folk-rockers The Band of Rack and Ruin to the pit orchestra at the London Palladium (Nowhere near as glamorous as it sounds!). He also works in a duo with Mick Bisiker, and has been musical director of several shows around the midlands area.

Jude started playing the oboe at the age of twelve after being locked in the music store cupboard for an afternoon. Jude studied music at Birmingham Conservatoire and left there with a Bmus honours degree and a Master of Arts under her belt. Being musically fickle has enabled Jude to showcase her talents in a multiplicity of styles and settings from contemporary free-style improvisation and composition through to classical music.
Now visit Isambarde's Website for more about the whole group