The weekend kicks off on
Friday lunchtime
Nelly Deans Bar is open
a chance to renew friendships with a chat and a few beers
Then into the Cottage for
The First Stirrings of Spring
with Ken Stevens
A sing say and play session to celebrate the start of a new festival season.
later on
Evening Sessions and Folk Club
in the Cottage and Nelly Deans Lounge
Saturday's events include
Workshops
Voice workshop Following on from last year with a frew more tips to achieve a more polished performance
Lace Making was popular last year so Jillie, Anna and Helen will be back with a simple introduction to this craft.
Corn Dolly making with Lucy Burrow. Another fascinating country craft still kept alive by enthusiastic people like Lucy. Come and have a go and have something really special to take home with you.
Scottish Small Pipes Another chance to meet and get a few insights into this subtle little brother of those big Scottish War pipes. Well attended last year, come early to bag a set of pipes.
---
A choice of concerts in the afternoon
Celebrate the Tradition
In the Cottage
and the highly successful
All Electric concert
in the Scout Hall
Look out for Story telling sessions throughout the day and of course almost continous song and music sessions in Nelli Deans
---
And in the Evening
Grand Easter Saturday Ceilidh
with
Wo gave us such a fine concert spot last year
Mill Cottage Folk Concert Club
With comperes Lynne and Ted Tann-Watson
who describe it as a sort of Ashby-de-La-Zouche Folk Club comes to Miskin. This is part of the world tour that regularly takes in the Volunteer Garden in Sidmouth ( Including 2005!!).
A subtle cross between the formality of a concert and the relaxed atmosphere of a club session. Designed to allow an occasional longer spot.
---
Easter Sunday
Another busy day starting with the
Traditional Easter Family Breakfast
bring your chocolate Eggies and make the Day really special
Early morning Song Workshop to get ready for
Easter Gospel Session
with "Daniels Band"
Chris Wenham, Mike Gibson, Kathy Wallis and Jon Heslop
Who will then join the
Grand Easter Procession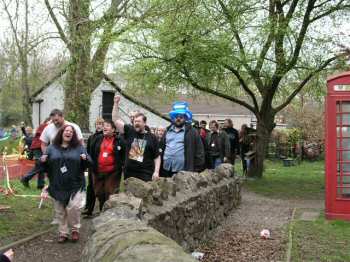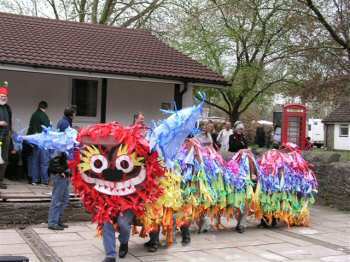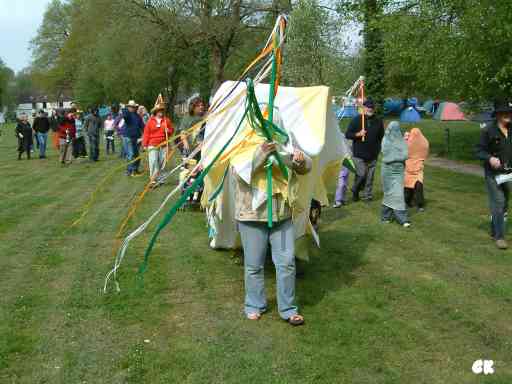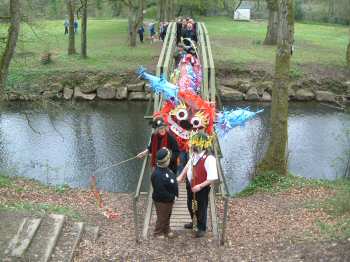 Bonnets Bring your own or make one during the weekend
Costumes Dance Kit,fancy Dress, batman even. Just dress up!
Jan has something special planned I know so don't miss this.
---
And to Celebrate more Easter traditions
~ Pace-Egging Ceremony ~
~ Egg and spoon races ~
Yes they will happen this year, they got sort of lost in the jolly merrymaking last year !!
---
The Afternoon brings
~ Another choice of Concerts ~
Acoustic in the cottage
Electric in the Scout Hall
And perhaps a chance to catch the guest you missed yesterday
and of course ~Music and Song Sessions ~
---
At about 5 o'clock. The cider is warm and ready, the trail is set and off go the story tellers on the "Story Walk". Our intrepid band of chatters weave their way between trees and tales - truth and fancy, all helped along by a small glass or two of mulled spicy cider, a special treat indeed. Finish up by the campfire for a few more stories and perhaps even a song or two.
---
In the evening
The Easter Special
"Ceilidh of Our Own Making"
A requested feature of our weekend, this is a chance to be part of a ceilidh band for the first time or perhaps to have a go at calling a dance. Whatever happens it is always a lot of fun.
Sessions continue in Nellie Deans Lounge
And a Folk Concert Club in the cottage
---
Monday
Please clear the Mill site as early as possible to give us a chance to clean up by midday !!
We move to
The Windsor Hotel
in Pontyclun
and hand over to the
Llantrisant Folk Club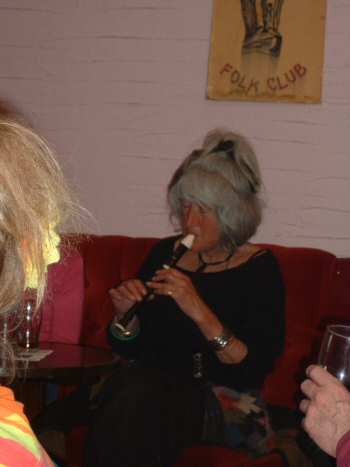 A day of song and music arounds - Concert spots and the usual Llantrisant club Mahem.
Food will be available all day, and of course a choice of good beers.