Resonator
Ned Clamp & Ian Lawrence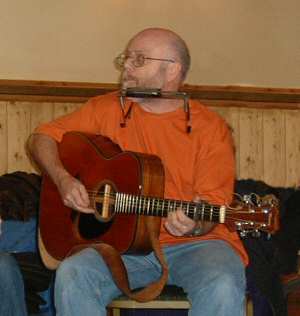 Ned, (guitar, mandolin, harmonica, vocals), moved to Wales from the Celtic fringes of Surrey in the 70s and couldn't find his way back. A stalwart of the south Wales folk scene for over 25 years; Playing, singing, promoting, some might say he's been a bit of an anchor.
Ned has played in various bands over the years including The Kitchen Syncopators, Juice of Barley, Juice, Bristol Channel Yankees, Murphy's Law and influential ragtime duo Hamstrung Bones, not to mention his own occasional big band, The Eduardo Clampini Allstars. He has now teamed up with Pat Smith and they are really developing as a new and exciting duo.
Ned will also be the Concert Director during the weekend.
Ian Lawrence (guitar, resonator guitar, mandolin)
After starting out playing pop music in the 60s, Ian spent most of the 70s with Shakin Stevens & the Sunsets. During this time, he developed an interest in country music, and took up the pedal steel guitar. Ian later went on to work with country rock bands such as Quarter Moon and Southpaw. An invitation to join a bluegrass band led to further exploration of acoustic music, taking up the dobro and mandolin.
After jamming together at various Cardiff folk clubs, Ned and Ian teamed up to further explore their common interest in that particular area where country music meets folk (some say collide). As a duo they provide a strong variety of songs and tunes in a lively manner which, combined with Ned's ready wit, ensure an entertaining and enjoyable time.