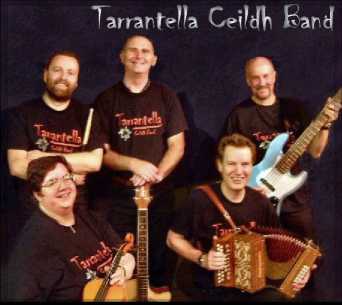 Well what can I say but welcome back to Miskin to another wonderful find for us. After doing an extended spot in one of the afternoon concerts a couple of years ago I had no hesitation in inviting them back. As the Ceilidh Band for the main Saturday Evening Dance last Easter they treated us to a superb evening. Well here they are again! Stand by for another sizzling Ceilidh and even more driving music during the sessions. A really nice bunch, I am so pleased to include them as a vital part of Miskin.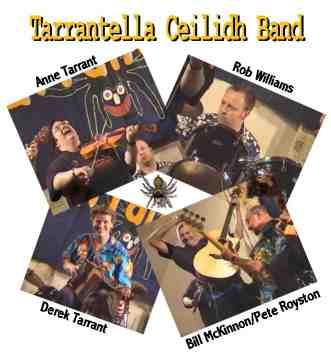 Tarrantella are : Anne Tarrant on fiddles, Derek Tarrant on Melodeons, Pete Royston on Bass Guitar, Rob Williams on Drums and of course our old friend Bill Mc Kinnon on Guitar and 5 string Banjo.
Here are a few very short low quality clips just to get your feet moving.
Blarney Pilgrim Jig (102k) Morpeth Rant (120k)
Maggie in the Woods (542k)
My very special thanks to Nick Tarrant for not only coping with his own band, but taking full control of all the sound in the Scout Hall throughout the weekend.