Mary Humphreys & Anahata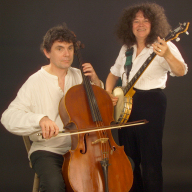 A late addition to our programme last year, Mary and Anahata made a lasting impression on many of us, not just talented, but charming and helpful and a fount of knowledge. I am very pleased to welcome them back again with their delightful blend of Welsh and English , how appropriate for Miskin.
Mary sings the Tradition both in English and Welsh (she is originally from Wrexham) and accompanies herself on Concertina and Banjo. Anahata provides accompaniment on melodeons, Concertina and Cello. They also play musical arrangements of mostly English music.
Together since 2001 they have featured at many festivals including Sidmouth and have two recordings in their own right while also contributing to several others.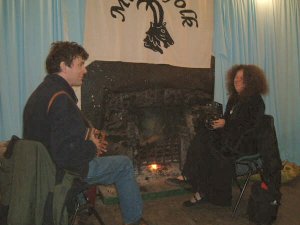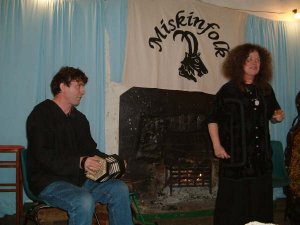 Have a listen here to a short snippet from their first CD "Through the Groves"

Now a couple of snippets from their latest CD "Floating Verses"
The Turtle Dove - Green Grows the Laurel
and now for something completely different
I know this will leave you wanting more so come to Miskin and / or buy the CD
"Floating Verses" Wild Goose WGS 322 CD
Then pop over to their own extensive site for lots more picture, info and sounds.