is a mixed Morris side, formed in 2003 by five of our existing members. We hail from around the Chelmsford area of Essex, where we dance in the traditional North-West Clog style. Our colours were chosen for no other reason than to be distinctive and our name is taken from a small independent brewery situated close to the River Crouch in the county of Essex. They are our sponsors and generously help us with the cost of our dress and other expenses incurred when travelling to and from Morris events, not to say keeping us well refreshed with good ale!!. (There will be a choice of Crouch Vale beers available during the weekend....Andy)
There are several varieties of Morris, each having a distinctive style and costume. The dance customs were, at the outset, regional; Cotswold, Border, and so on. North-West Clog Morris dancing was established by workers in the cotton mills and other factories of Cheshire, Lancashire and West Yorkshire. Although these days there are mixed sides as well as ladies' and men's teams in almost all forms of Morris, North-West Clog is the only tradition where this has always been the case.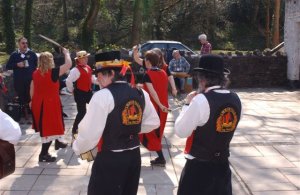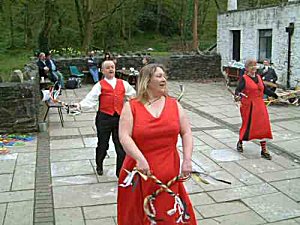 First introduced to Miskin by my old friends Ali and Russell, Crouch Vale soon became an integral part of the weekend. They are just about everywhere! This year they can claim two concert artistes, the dancing and even providing some of the beer! Welcome back to all of you.
Text