Gwilym and Carol Davies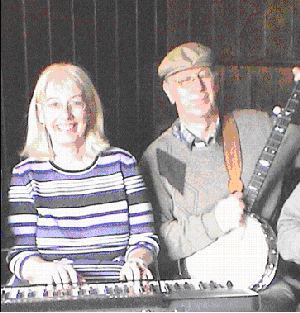 Welcome back to Gwilym with his wife Carol this year.

Melodious songs and music on keyboard, melodeon, banjo, guitar and concertina.
Gwilym and Carol have been involved in most aspects of folk music for many years, and are an integral part of the group "Puzzlejug", with whom they have recorded several albums including the acclaimed Christmas album "Let us be Merry". More recently they have recorded songs from the Hammond and Gardiner collection for the Forest Tracks label.
They have carried out extensive research into the songs of southern England and have sought out and recorded many source singers including the notable Smith and Brazil traveller families of Gloucestershire. Their repertoire includes songs and tunes from all these sources, along with many other songs picked up in their travels.
Their achievements include a joint project with Tim Laycock on the songs collected in Gloucestershire by Percy Grainger, culminating in the play "Really Beautiful Company".
Their strong voices and thoughtful musical arrangements are a delight to listen to as well as being well in keeping with our musical traditions.
Good singing and playing!

Pop over to Gwilym's site for a lot more about this busy couple.