Peter Collins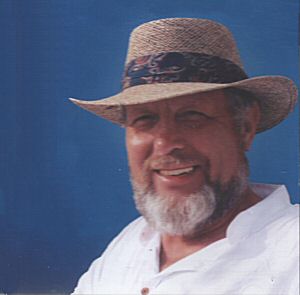 Peter's second time at Miskin and already he seems to be part and parcel of it all.
"I live in Wadhurst, East Sussex and have had the pleasure over many (more than I should like to admit to!) years of knowing and singing with some of the great singers that Sussex has produced. All the real gentlemen of song like Ron Spicer, Gordon Hall and Bob Copper have been personal friends and very encouraging over the years. Bob wrote a really beautiful note for my CD and the Copper family are still encouraging me to use it even though he is no longer with us. I love singing in Sussex because the atmosphere at local sessions is always warm and socially inclusive even to incomers from London like me (I have only lived here for 35 years!).
I really enjoy informal sessions with a crowd of singing friends but I also look forward to the occasional booking at folk clubs where I can sing some of my quieter repertoire.
I have been singing regularly at Broadstairs Folk Week since 1975 and running the lunchtime sing in the Neptune since 1977, except for a break of 3 years while working in Ukraine and Kazakhstan. I was full time Artistic Director of Broadstairs FW 1995 & 1996 which I took on at short notice ."
Peter
**********************
Have a listen to snippets from a couple of tracks on Peter's CD - OLD TIMER
And just to put the seal on a good reputation here's a few words about Peter from one of the most respected authorities on our music, the late Bob Copper:

" To hear a good song well sung by a singer whose persona is suited not only to the subject of the song, but also to the quintessential mood it is intended to induce, is a joy worth waiting for. And wait one has to, to meet, or come anywhere near meeting all those qualities wrapped up in one harmonious bundle.
It is a rare experience and we who travel the folk scene, all too often have had to suffer weedy youths pip-squeaking about brawny-armed blacksmiths; demure damsels honey-toning about a gory battle at sea; and even some poor, old near-nonagenarian quavering on about the love he left behind him "down by the banks of the sweet prim-i-roses". It must have been an unconscionable time ago.
In fifty odd years of folk experience the most outstanding instance I have met of a singer meeting all these demands, is Peter Collins. To hear him render (the word "sing" is not powerful enough) the unforgettable drinking song, "Old Peculier" (or any other drinking song), is to hear the reverberating echoes of drinkers down the years, rising up from the vaulted depths of the beer cellars of the earth itself. His huge frame, his generous beard, the depth, warmth and true tonal quality of his voice and the knowing twinkle in his eye all express the attitude of a man devoted to the ancient cause of beer-drinking and all it stands for.
Peter sings songs on other themes, of course, but always with that unshakable note of conviction that he knows what he is singing about and believes it to be true.
A compelling performer if ever there was one."

Bob Copper, 2003.
**********************
Welcome back Peter