I know I keep saying it, but I've know these three FOREVER. Alright, the best part of thirty years I'd say. And three finer voices you've yet to meet. Individually they are class performers by any standard, together they are sheer magic. Ian Woods has been a regular at Miskin for a while now and he started dragging Graham along a couple of years ago, now they have ganged up on the other Ian ( Giles) to complete the trio. I can't wait. (I need to take a photo for next year!)
" Three great, unaccompanied bassy voices steeped in ale and tradition. "
Follow these links to learn more about these busy chaps
Ian Giles on Wild goose records
Graham Metcalfe on Wild goose records
Here's a shot of Ian Giles being led astray!!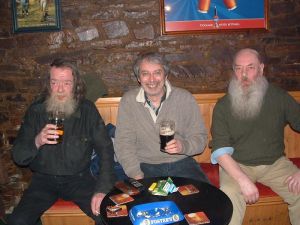 Three friends in true accord