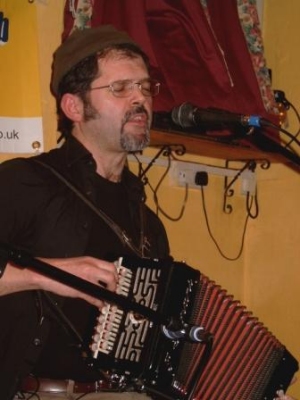 Guto is an accomplished solo perfomer he sings, plays melodeon and tells stories and sometimes all three at once! With a wide range of Welsh stories, that he can tell in English and Welsh and have a good stab at in some other languages too, a good store of Welsh songs and tunes, and a self effacing humour he has a fast growing reputation as one of Welsh folk culture's best ambassadors
Guto sings songs of broken hearts and dysfunctional relationships, usually from the Welsh tradition (in Welsh, but introduced with charm and humour in English); but might throw in the occasional surprise if the fancy takes him (a Bolivian folk-song, or Bob Dylan number or whatever). He accompanies himself on the melodeon and intersperses tunes from Wales and elsewhere.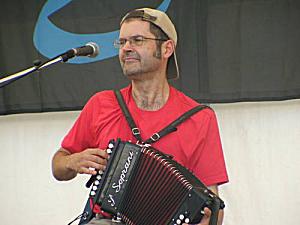 He works alone, in a duo with guitarist Danny Kilbride, and in the duo Toreth with fiddler Gareth Westacott. Toreth have played festivals and concerts in Wales, England, Ireland, Brittany and Estonia.
In the past he has played melodeon or keyboards with groups as diverse as Rhondda rock band The Watermelons; The Vinegar Flies (with singer-songwriter Chris Ridgeway, currently with Cakehole Presley); South Wales ceilidh outfit Juice (with assorted Kilbride brothers); and Cardiff r'n'b institution Red Beans and Rice.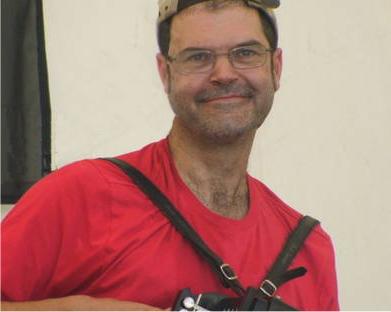 Guto is also a lively storyteller and has told stories at Broadstairs Folk Week, Middlewich Folk and Boat Festival, The Beyond the Border Storytelling Festival at St Donats, Sesiwn Fawr Dolgellau, and Glastonbury, as well as at museums, city farms and schools.
"Guto - sometimes punchy, sometimes sensitive -
and always with terrific musicianship". I.M.
As well as concert spots, also watch out for Guto in our, new this year, Story Tent.
Have a look at Toreth here